Help Out Folks in Our Community!
Bring in a donation of non-perishable food or personal care items and get $5 off your treatment.  We'll take them to a local food shelf as they add up.  Help yourself and others too.
Food:    Canned meat products, Boxed dinners (Hamburger Helper, etc.), Macaroni and cheese, Canned pasta (ravioli, etc.), Hearty soups, Pasta, Rice, Cooking oil, Flour,  Sugar,
Personal care items:   Bar soap,  Shampoo,  Deodorant,  Laundry detergent,  Paper products,  Toothbrushes,  Diapers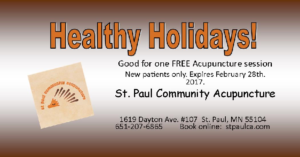 Two For $20 Tuesdays–February
2 treatments for $20 for returning patients scheduled in pairs.  New patients still pay initial visit fee ($10).  Every Tuesday in February!